Vitamin B - complex - 50 mg - 100 capsules
The B-Complex Balanced B50 nutritional supplement with 100 capsules contains B vitamins that help the body to function and vitality. Normally they can not be overdosed, they are excreted with urine. These are vitamins B1, B2, B5, B6, B12, choline, inositol, nicotinamide, biotin, PABA and folic acid. They all have their specific function. B complex affects the activity of important enzymes, promotes proper function of the psyche and nervous system. It contributes to proper functioning of the heart, eyesight, metabolism of homocysteine, proteins and glycogen, to maintain healthy red blood cells, promotes the metabolism of iron, contributes to the protection of cells from oxidative stress, to reduce exhaustion and fatigue, to normal liver function. B complex promotes good digestion and appetite.
Public Health Service of the Slovak Republic pursuant to §13 par. 4. g) of Act no. 355/2007 Z.z. agrees to place this nutritional supplement on the market in the Slovak Republic. Decision number: OHVBPKV / 2326/2013 / Ht.
Warning: This product was marketed as a dietary supplement. It does not have approved medicinal effects and it is not a medicine. It is not intended as a substitute for a varied diet. Do not exceed the recommended dosage. Keep out of reach of children. Minimum durability marked on the packaging.
Nutrition claims are in line with current legislation under Regulation (EC) No 1924/2006 and Commission Regulation No 432/2012 on nutrition and health claims made on foods - including dietary supplements.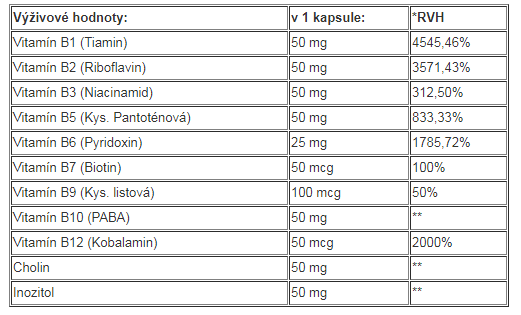 ** The reference nutritional value is not established
Composition: thiamine mononitrate, riboflavin, nicotinamide, calcium , pyridoxine hydrochloride, cyanocobalamin, D-biotin, folic acid, choline bitartrate, inositol and paraaminobenzoic acid, anti-caking agent and humectant: silicon dioxide, bulk reagent: microcrystalline cellulose, : vegetable stearic acid.

Dosage: One capsule a day with food.
storage: Keep in a cool and dry place!
Warning: Keep out of the reach of small children! The recommended recommended daily allowance may not exceed. Not suitable for children, pregnant and nursing women. The nutritional supplement should not be used as a substitute for a varied diet.
Group B vitamins are water soluble and are indispensable for maintaining the life processes in the body. They play an important role in the activity of enzymes involved in metabolism, cellular respiration, degradation of sugars, fats and amino acids. They participate in energy utilization processes. They are essential for the normal functioning of the skin, nervous system, digestive tract, or body defenses.
statement: This product does not contain any of the major food allergens: milk, eggs, fish, crustaceans and molluscs, nuts, wheat and peanuts.
Minimum durability to: see bottom of packaging.
Weight: 60 g.