Multivitamin - Daily Formula with Niacin – 100 ml
Natural Nutritional Supplement as well as Liquid Multivitamin Drink Daily Formula with Niacin and Stevie (60 ml) with Vitamin Complex (A, B Complex, C, ...), Minerals (Magnesium, Calcium, Potassium ...) and Trace Elements especially women taking contraception, athletes and people with excessive effort, alcohol users, teenagers, elderly people or smokers. This nutritional supplement is made with new technology - the advantage of the product is the very high absorption capacity of the individual components compared to the normal pill vitamin.


Public Health Service of the Slovak Republic pursuant to §13 par. 4. g) of Act no. 355/2007 Z.z. agrees to place this nutritional supplement on the market in the Slovak Republic. Decision number: OHVBPKV / 4389/2013 / Ht.


Warning: It contains niacin, which can cause redness and itching for 5 to 15 minutes.
This product was marketed as a dietary supplement. It does not have approved medicinal effects and it is not a medicine. It is not intended as a substitute for a varied diet. Do not exceed the recommended dosage. Keep out of reach of children. Minimum durability marked on the packaging. Nutrition claims are in line with current legislation under Regulation (EC) No 1924/2006 and Commission Regulation No 432/2012 on nutrition and health claims made on foods - including dietary supplements.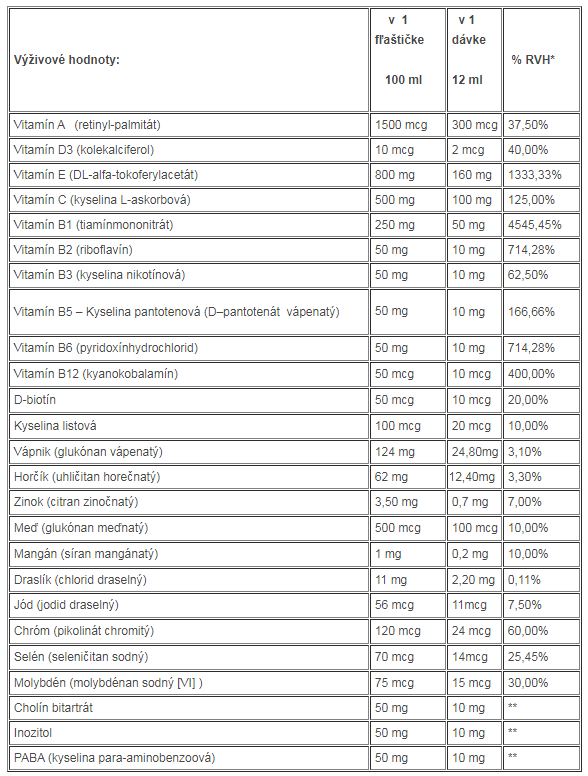 * Reference nutritional value
** The reference nutritional value is not established
Composition: water, emulsifier: vegetable glycerol, acidity regulator: citric acid, sweetener: glycoside
steviol, aroma and flavor enhancers: natural orange flavor, preservative: potassium sorbate,
thickener: xanate gum


Weight: 100 ml